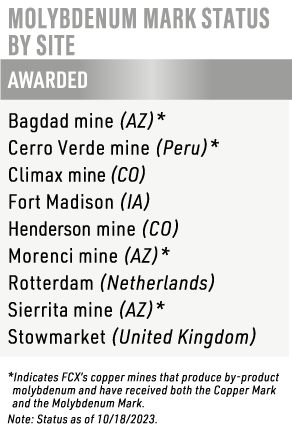 In 2022, the Copper Mark announced an extension of its framework to include molybdenum, nickel and zinc producers and launched a pilot implementation of the Molybdenum Mark, the Nickel Mark and the Zinc Mark. Producers of these metals are now able to use the same Copper Mark validation process to showcase their leadership in responsible production practices.
This extension of the Copper Mark to these metals was developed out of collaboration among the Copper Mark, the International Molybdenum Association (IMOA), the Nickel Institute (NI), and the International Zinc Association (IZA). The goal of the framework extension is to continue to promote sustainable and responsible production and sourcing practices within the copper, molybdenum, nickel and zinc value chains.
The Molybdenum Mark, like the Copper Mark, requires independent third-party site assessments of participating sites against the Copper Mark's responsible production criteria as defined by the Risk Readiness Assessment. FCX was the first primary molybdenum miner to achieve the Molybdenum Mark.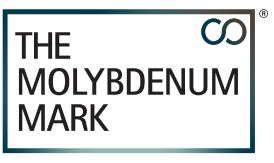 All of our eligible copper producing sites have been awarded the Copper Mark. Our primary molybdenum mines, copper mines that produce by-product molybdenum and our molybdenum processing facilities have all been awarded the Molybdenum Mark.
---
Climax Molybdenum Company, a subsidiary of Freeport-McMoRan, sustainability programs are consistent with commitments set forth in company-wide policies defined by Freeport-McMoRan. To learn more, please see our website: fcx/sustainability or 2022 ANNUAL REPORT ON SUSTAINABILITY
---